TECHNICAL UPDATE – "FIRST UNDERSTAND THE PROBLEM"
Here at Thompson Couplings we strive to design and deliver to you the best available product for your particular driveline requirements.
We don't just sell the standard off-the-shelf coupling BUT will work with you (if needed) as the end user to understand the problems with your current situation and deliver a technical solution.
Based on our many years' experience in driveline and machinery systems we understand that often it may not be obvious the cause of a systems vibration or noise or poor life etc. From lessons learned it is not wise to dive in and think it must be the coupling that is the culprit all to find the problem may still be there after the coupling has been replaced.
Instead take a look at the entire driveline and connected machinery and using some simple tools try and pinpoint where the originator maybe. In future articles I will elaborate more but simple checks such as:
Worn pump bearings will give signs of vibration even though the couplings maybe fine
Sloppy Vee belts or poor tension will give false readings in vibration
Loose motor mounts or pump supports will likewise give high vibration readings and make alignment impossible when using other specific types of couplings.
Etc.
The simple tools I mention include your sight, sounds and feel to safely identify possible sources of trouble first before bringing in the technical equipment. Use a screwdriver to your ear to listen to worn bearings, feel with your hand indications of hot spots in the shaft couplings or other components. REMEMBER though safety first when you are close to rotating machinery!
Next time we'll discuss case histories to show how this all can be applied.
TECHNICAL UPDATE – "PROBLEM SOLVING EXPERIENCES"
It often transpires that in machinery that obtaining and maintaining perfect alignment for devices like driveshafts and couplings is near impossible to achieve. One may be able to initially setup the required tolerance of shaft axes required for a specific coupling however due to uncontrollable factors such as thermal expansion when in operation or flexure of the support frames these "go out the window" and vibration and/or premature failure occurs.
At other times a refit project may take place whereby a new prime mover (motor, engine etc) forcing the established axis alignment to be changed and no suitable coupling can be found to work.
A few years ago our engineers were presented with a sailing boat enquiry that had recently undergone a new engine refit. This new diesel engine had a shaft axis significantly higher than the previous engine hence the alignment with the existing fixed propeller shaft was compromised. If the traditional universal joints were to be installed the new angles were no longer compatible to provide constant velocity to the final drive.
Working closely with the boat owner and using his design drawings our team were able to calculate and offer him our unique Thompson Constant Velocity Joint (TCVJ 5B-15) to link the new engine and existing propeller shaft. The true constant velocity of the coupling provides near vibration free motion for the vessel and has since proved very reliable.
In his own words;
I can honestly say that your CV joint inexpensively solved a major problem during a refit of Route 66 done in 2011. We had decided to replace a finicky and high maintenance "saildrive" with a conventional propellor shaft and coupling. However, because of our engine placement and lifting keel we needed a true CV joint that could handle over 100 hp with an 8.5 degree change in shaft angle. Your brilliant joint allowed us to do this. The joint has been trouble free and functioning beautifully with minimal maintenance over several thousands of miles during this interval and I would certainly do it the same way over again and not hesitate to recommend it as a CV joint for any application given my experience.
TECHNICAL UPDATE – "Torque, Power and Speed Part 1"
In this article I want to dispel some misunderstandings when it comes to a well-known engineering relationship between Power, torque and speed; viz
Torque (Nm) = 9550 x Power (kW) / Speed (rpm).
This formula defines the linear relationship that one may see with a certain AC electric motor with different pole configurations, such as 2, 4, 6 or 8 pole that modify the synchronous speed in line with the pole number. Thus while the line frequency of say 50Hz (Australia) produces a theoretical synchronous speed of 3000 rpm for a 2 pole motor that same sized motor with a 4 pole configuration would sync at half that speed or 1500 rpm and its torque would be doubled (as per the linear formula above). The same relationship occurs in USA (60Hz) but the respective speeds become (3600 and 1800 rpm)
Where I have seen folk come unstuck is when motors are controlled by a Variable Speed Drive (VSD or VFD) and recording the final output speed BUT applying that same formula. It is erroneous to double the torque in this situation if the speed is halved. The principle of the VSD is to REDUCE the power as the Speed is reduced and hence the Torque effectively remains CONSTANT.
A simple chart shows this as follows:

So when selecting a suitable coupling based on the motor torque it is vital to understand how the system is controlled (VSD, DOL etc) and operated.
Next time we will discuss other types of power sources.
David Farrell – B.E. Mech (hons)J
(David Farrell is Chief Engineer for Thompson Couplings – designers and manufacturers of The Thompson Constant Velocity Joint. David has more than 30 years as a professional mechanical engineer involved in a wide range of mechanical engineering designs and maintenance projects. He was one of the key founders of Thompson Couplings Ltd since 2001 and continues to design the range of TC products as well as support the engineering community with specific applications for power transmission and shaft couplings.) www.thompsoncouplings.com
TECHNICAL UPDATE – "Torque, Power and Speed Part 2"
Torque, Power and Speed – other power sources
In a previous update we discussed how the fundamentals of power, torque and speed are related by the equation Torque= 9550 x Power/rpm
This linear relationship only holds true while ever power is constant, such as in a single or multi-phase electric motor running at synchronous speed. It also holds true when a fixed speed reduction device is used such as a gearbox or vee belt drive where the torque can be easily evaluated.
But what happens when the power is not constant across a prime movers speed range?
Consider for example a diesel engine of either single or multi cylinder configuration. An internal combustion engine such as this will generate its peak power at a certain rpm point. Either side of that point the power, and also torque, will diminish. One cannot expect the same torque relationship as previously mentioned to be applied to such a machine.
So when trying to size a suitable shaft coupling for a diesel drive to, say a fire fighting pump, what torque value does one choose for its size?
The solution we adopt is to study the specific performance curve particular to the engine in question. Engine manufacturers publish their own power, speed and fuel consumption curves for each model. By studying these curves one can select the point of operation where peak torque occurs, which is not the same as the peak power point. For instance Volvo Penta publish the following curves for their D12 range of marine inboard diesel engines: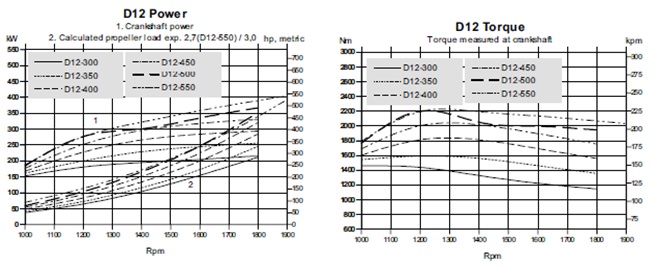 While peak power is developed at crank speed of 1800 rpm or more the peak torque is found to occur at around 1200-1300 rpm. Trying to apply the linear equation for power and torque would give an erroneous answer in the engine torque at peak power. Thus to size an appropriate coupling based on its torque capacity one must start with the engine peak torque from its specific curve.
The same logic applies to other non-linear power sources such as gas turbines or even wind power generators where understanding the whole system is the key to successfully sizing a suitable shaft coupling.
At Thompson Couplings Ltd we have developed a sophisticated method for calculating the effects of various power sources speeds and torque patterns to enable us to design the correct coupling to suit individual applications.
David Farrell – B.E. Mech (hons)J
(David Farrell is Chief Engineer for Thompson Couplings – designers and manufacturers of The Thompson Constant Velocity Joint. David has more than 30 years as a professional mechanical engineer involved in a wide range of mechanical engineering designs and maintenance projects. He was one of the key founders of Thompson Couplings Ltd since 2001 and continues to design the range of TC products as well as support the engineering community with specific applications for power transmission and shaft couplings.) www.thompsoncouplings.com
TECHNICAL UPDATE – "Coming soon. Please stay tuned."